My girlfriend is obsessed with chocolate, and anything containing it instantly becomes the best thing I've cooked in any given week. I therefore started baking a Nutella cake for her birthday. But I also wanted to use feuilletine (crêpes baked until crispy then shattered); without textural contrast, I often find cakes a bit one-note. Then, having decorated the outside with something which was present on the inside, toasted hazelnuts, I realised I'd unwittingly made a cake which was more Ferrero Rocher than Nutella. Of course, given that they're both manufactured by Ferrero and Ferrero Rocher is filled with Nutella, this was no great leap. Fun fact: 30% of the world's hazelnut supply is used by Ferrero!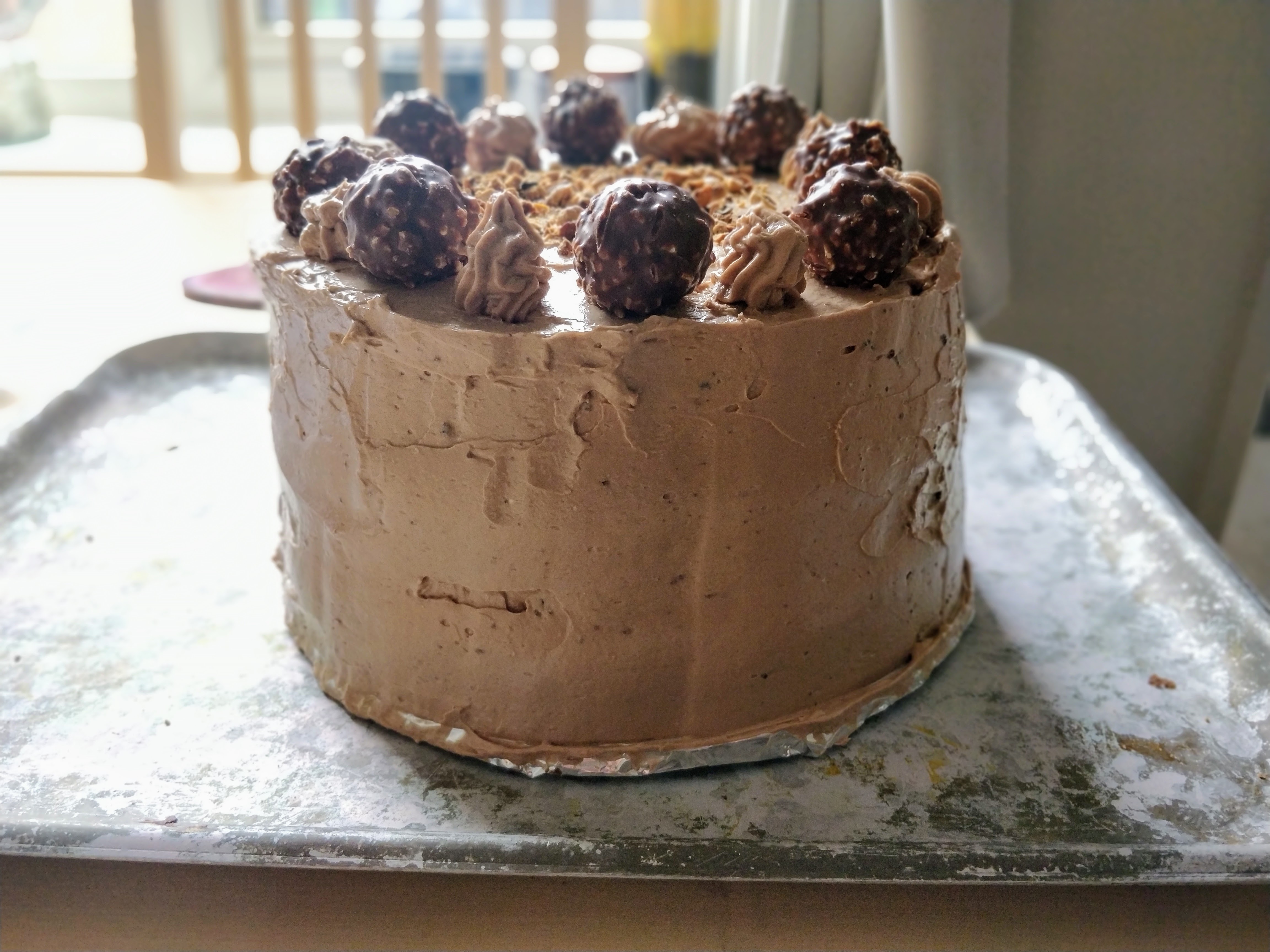 I learned the hard way while making last year's cake that feuilletine does not stay crispy when simply covered by chocolate ganache; mixing with melted chocolate and nut paste as I've done here is one method of retaining that crunch. I didn't have enough hazelnuts on hand, so the nut paste ended up including a bit of whatever I had in the larder (almonds and cashews). It seemed to work well regardless! The cake also features a Swiss meringue buttercream, which somehow manages to be light and airy in texture while tasting incredibly rich. Next time, I think I'll try making more crushed hazelnuts and using them to cover the sides of the cake.
The cake base is BraveTart's incomparable Devil's Food Cake.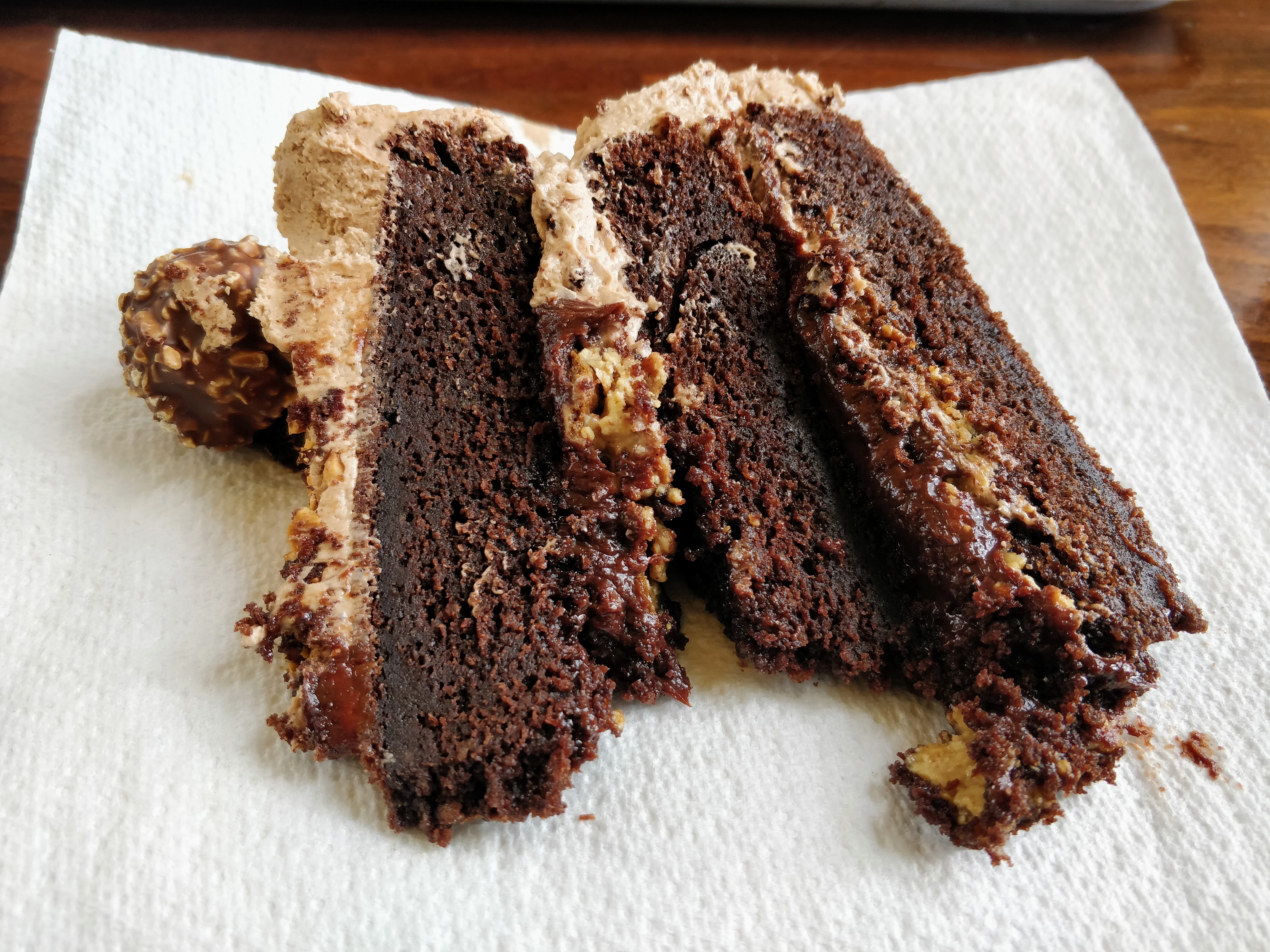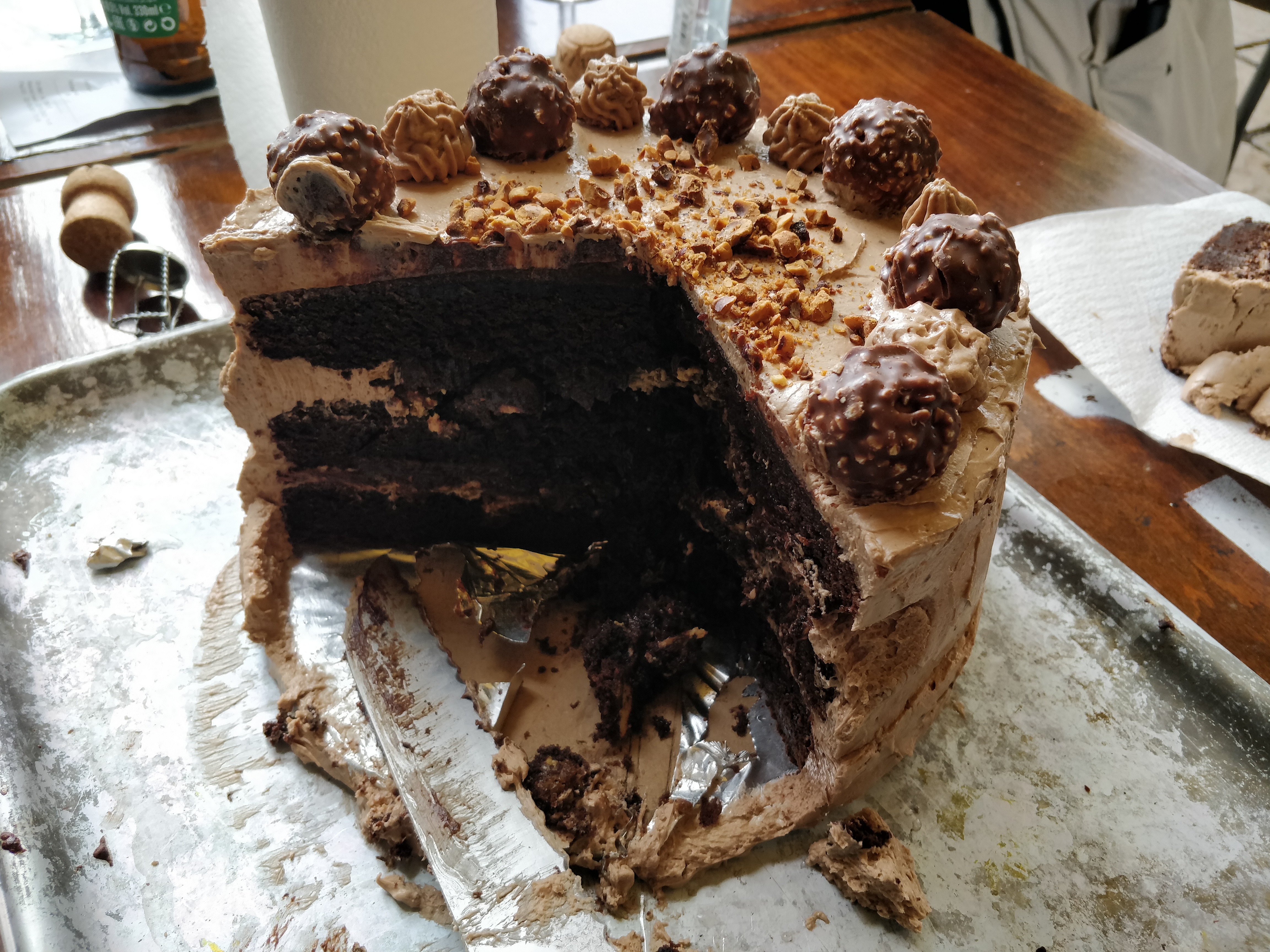 Ingredients
150g double cream
400g Nutella
230g dark (70%) chocolate
12 large egg whites
400g caster sugar
890g unsalted butter
340g black coffee, freshly brewed
85g Dutch-process cocoa powder
455g brown sugar
15g vanilla extract
4g table salt
255g plain flour
13g baking soda
200g hazelnuts
40g white chocolate
80g feuilletine
1 cake round
6 Ferrero Rochers
Method
Preheat oven to 180°C
Make ganache: heat double cream til just bubbling, then pour hot cream over 200g Nutella and 60g chocolate in heatproof bowl
Leave ganache for 5 mins then mix until combined and refrigerate
Meanwhile, make Swiss meringue buttercream: in large, metal or glass bowl, separate 6 egg whites and add caster sugar
Using electric whisk, beat egg whites over bain marie until they reach 70°C, then remove from heat and continue whisking until stiff peaks form
Add 550g unsalted butter and remaining 200g Nutella then continue beating until incorporated
Transfer buttercream to piping bag and refrigerate
Meanwhile, make cake: line 3 20x8cm cake pans with baking parchment
Combine hot coffee and remaining 340g butter in metal bowl, mixing until homogenous (adding gentle heat if necessary)
Add remaining 170g dark chocolate and cocoa powder, mixing until homogenous (adding gentle heat if necessary)
Add brown sugar, vanilla extract, salt, remaining 6 whole eggs and 3 egg yolks, beating to combine
Fold in flour and baking soda then divide between lined pans
Bake until cakes are firm and a toothpick can be inserted and removed with a few crumbs attached
Cool cakes for 1 hour, then invert onto wire rack, remove parchment and return cakes right side up
Meanwhile, prepare feuilletine crunch: roast hazelnuts at 180°C until skins easily slip off and they are starting to brown
Blend 160g hazelnuts (adding as much vegetable oil as necessary) to form paste
Melt white chocolate and mix into hazelnut paste and feuilletine
Crush remaining 40g hazelnuts
Level cake bases
Assemble cake: pipe a little buttercream to stick cake round on cake turntable, then a little more to stick first cake layer (right side up) on turntable
Pipe buttercream ring around perimeter of cake
Spread layer of feuilletine crunch onto cake inside dam
Add ganache on top of feuilletine crunch (remaining within buttercream ring)
Add next cake round
Repeat steps 21-24, but placing third cake round upside down
Pipe buttercream liberally on top of third layer and spread across top and sides of cake then level using turntable
Refrigerate cake for an hour to firm outside layer
Meanwhile, crush remaining hazelnuts
Decorate cake with piped buttercream, Ferrero Rochers and crushed hazelnuts